"Discover Simple Exercises that Will Help You Move Better, Feel Great, Improve Mobility and Accelerate Recovery in As Little As 10-seconds – without the Need for Any Equipment."
Discover the Simple Exercises to do Between Your Workouts, Sets or Exercises that Will Dramatically Improve How You Feel!!!
Dear Frustrated Exercise Enthusiast & Trainer,
If you are interested in moving better, feeling great, improve mobility and accelerate recovery, then read this important letter.
Introducing 50 Filler Exercises from Rick Kaselj:
My name is Rick Kaselj. I am an exercise and injuries expert and international presenter for effective exercises to help the body move better. I have written numerous articles that have appeared in newspapers and fitness magazines, have written leading exercise injury manuals, and have given over 315 presentations to more than 6,000 health and fitness professionals across Canada and the USA.
50 Filler Exercises for Improved Performance program is the result of our combined 11 years of University study (including a Master's Degree in Exercise Science), 21 years of hands-on experience, constant searching for the best exercises and techniques, and teaching of these techniques to thousands of other fitness & health professionals across the globe to help their clients. And this doesn't include the thousands of personal training sessions with clients, and the careful scrutiny of hundreds of medical research papers.
How this Whole Thing Came to Be……
I was rehabilitating a client, his name was Phil, and he had injured his knee. He was an avid gym goer. I had given him a bunch of knee rehabilitation exercises.
One day, I was in the gym and I saw Phil. He followed my advice to continue on with the rest of his exercise program because he was clear and fine to do upper body work.
Phil was going around the gym, going through his upper body exercises and in between each of the sets of the exercises, he would do his knee rehabilitation exercises that I gave him. I watched what he was doing and after about 10 minutes I came up and asked him, "Phil what are you doing in between your sets?"
He told me, "Rick, I don't have time to just do the knee rehab exercises. I got to go to the gym quickly and go through my workout and I don't have extra time to do my knee rehab exercises."
What he was doing in between sets was instead of just regularly resting between sets or walking over to the drinking fountain or walking around the gym, he was doing his knee rehab exercises.
It was a great idea so I tested it out on myself and on my clients. It worked!
That is where the filler exercise idea came from.
Now, what I do is I add filler exercises in between the sets of my clients' workout. These filler exercises will help out individuals get more out of their workout.
Why Do You Give Filler Exercises to Your Clients?
There are multiple reasons why I get my clients to do Filler Exercises:
1. Improves Movement
Before we go workout, most of us have been sitting or lying down and our bodies are not yet ready to workout. I use Filler Exercises to help improve movement. When you improve your movement, you are less likely to get injured, you are able to fend off injury, you are able to prepare the body to workout and you are able to push your body harder during your workout.
2. Lubricates the Joints
Other things that it does is it lubricates up the joints through full range of motion. This allows the the body to move the joints into positions better with less resistance or compensation.
3. Activates the Stabilizing Muscles
It activates the stabilizer muscles, the ones that protect the joints from injury. Oftentimes, those stabilizing muscles are not working properly or not activated if you are sitting for a long period of time. When they do not activate properly, it is exposes the joints to injury.
4. Increases Range of Motion
When you sit or lie down for greater than 30 minutes, it affects the range of motion in our joints. Especially the neck, shoulders, mid-back, hips and knees. Doing filler exercises helps increase the range of motion in these joints allowing you to do exercises with greater ease, better movement and with better results.
5. Improves Circulation in the Muscle
By using the muscles, I am improving circulation in the muscle which prepares it better for the workout.
This is the reason why I do the filler exercises in between sets instead of having clients just rest or take a break or walk around the gym or go to the drinking fountain. I will give them a couple of exercises that they can do to target the joints and the movements that they have difficulty with or need recovery.
A lot of times, I give them at least 3 to 5 filler exercises that they can do in between the sets to help them improve their movement as well as their workout in general.
6. Helps Address Muscle Imbalances
Being in so many static positions like sitting or lying down, muscle imbalances form around out joints. The muscle imbalances lead to injury and decrease performance.
How 50 Filler Exercises program will help you:
You'll finally be able to improve your movement around stiff joints so you can feel less stiff
You will be able to have your clients move better so they can work harder during their workouts and get even more results.
The simple exercises will help you discover weak spots in your body so that you can fix them
Fix issues that you have before they become a full blown injury so you can keep doing what you love doing
You can work on addressing your muscle imbalances so that you can keep enjoying life and stay off the sidelines
Your clients will be telling all their friends how you're not like the other trainers out there, and all about your secret exercises that relieve their pain.
"My clients and have noticed a huge difference on recovery and mobility in a very short time!"
Hey Rick,
I implemented all of your 50 Filler Exercises with all of my clients and have noticed a huge difference on recovery and mobility in a very short time. The course was well worth it!!
Cheers,
Rick Lionello
Personal Trainer specializing in Corrective Exercise and Senior Fitness
Missoula, Montana
Questions & Answers
Question: Do you need any special equipment to do these filler exercises?
You do not need any specific or expensive equipment. If I use equipments, these are just common equipments that you can find in the gym. However, I also give alternative exercises that require no equipment.
Question: Is the 50 Filler Exercises one of those programs that are filled with crazy exercises or workouts that people hate to do?
You will be amazed at how simple these exercises but more importantly, how effective they are.
Instead of doing nothing between sets, they can quickly do a filler exercise that will help them get more out of their workout without spending more time working out.
Are Filler Exercises only for "Injury Rehabilitation"?
No, they are not.
I do get my clients with injuries to do some of their injury rehabilitation exercises between sets when appropriate but I specifically use filler exercises to get my body and my clients' bodies ready for the workout and exercises they are going to do for that day.
Let me summarize what areas we will cover for you in the 50 Filler Exercise program:
Feet Filler Exercises
Knee Filler Exercises
Ankle Filler Exercises
Hip Filler Exercises
Back Filler Exercises
Shoulder Filler Exercises
Neck Filler Exercises
Question: Will this just be a bunch of exercises that I have to figure out what to use them for? And will I use all of them?
Absolutely not!
You will get a video where I demonstrate the exercise and then explain the exercise.
Also, you get a manual that you can refer to for more explanation on how to do the exercise.
Question: Will I be able to just do a quick Google search and find most of these exercises?
Not at all!
These aren't your run of the mill exercises that you see most people in the gym doing. It's safe to say that at least 25-50% of the exercises in 50 Filler Exercises you will have never seen.
Here are the Benefits of The 50 Filler Exercises Program:
Activate your feet so they are ready to give you everything you need for your deadlift (page 5)
Shows you the correct way to do the 50 Filler Exercises that most personal trainers do wrong
The Top 3 Filler Exercises to prevent knee pain and strengthen your clients VMO (pages 9 to 11)
You will discover the exercises "TO DO" and "NOT DO" to common 50 Filler Exercises
You will dramatically Increase your Exercise Toolbox
The exact 3 No Equipment Needed Exercises to Loosen Up Your Mid-Back once and for all (pages 43 to 47)
Gives you clear and detailed explanations about when to use these filler exercises with your clients
Includes videos that you can watch to make sure you know the proper form of every exercise
More Questions & Answers
Question: What is covered in the 50 Filler Exercises Presentation Video?
The 50 Fillers Video Guide is the foundation of the program. Rick goes into detail about what you need to know to better understand when to use the exercises, your options when it comes to your 50 Filler Exercises, what to do and not do for a 50 Filler Exercises.
The presentation is just like you are with me in a workshop and I am explaining everything you need to know about the 50 Filler Exercises program.
The 50 Filler Exercises Video Presentation is a recorded video presentation that you can download to your computer, burn to a DVD, watch on your phone or view right off the internet which takes you step-by-step through the program. You can download the video at work or at home and view it when it is convenient for you, even in the middle of the night.
Question: How does the 50 Filler Exercises Video Presentation work?
After purchasing 50 Filler Exercises program, you will be directed to details on how to access the video guide and full program. You can then view and download the video guide. The instructions to view and download the video guide are easy to follow and quick to do. If you have any problems, contact me and I will help you out.
Question: Do I have to watch the Video Presentation all at one time?
No, you can watch the video presentations whenever you would like (even at 3 am), at your own pace and revisit any aspects of the video presentation when you like.
Question: Can I burn the Video Presentation onto a DVD?
Yes, you can!
You can download the video presentations to your computer and then burn the video presentations to a blank DVD.
This allows you to watch the video presentation on a DVD player at home, on your laptop, or on a different computer that has a DVD drive.
Question: Can I watch it on my phone or tablet?
Absolutely!
The video guide is in a M4V format that you can view on your phone or tablet.
Question: Why do so many people prefer to learn through a Video Presentation?
Benefits of Learning Through the 50 Fillers Video Presentation:
You can watch the video at your own pace and go back to key points at your convenience
You don't have to take time off from work and lose money just to attend a course on Corrective Exercises
You can watch the video when it is convenient and best for you
You can download the video presentation to your tablet, laptop, smart phone, iPhone, iPad and watch it whenever you have a moment
You can learn the truth about using 50 Filler Exercises to improve muscle imbalances with your clients from the comfort of your own home
You can view the video presentation on a PC or Mac
You'll have an affordable way of learning new, detailed and research-backed, solution-focused information on exercise and injuries
No time is wasted driving or flying to courses
Question: I was surfing around the internet and found a bunch of 50 Filler Exercises. Will these help?
I have found a lot of stuff on the internet when surfing for Filler Exercise information.
What you will find on the web are exercises that only the top 3-5% of clients can actually do. And beyond that, more often than not they never teach proper form or include any kind of regressions. Anyone can put a video or article on the internet, but wouldn't you rather learn from people who actually train other trainers?
Doing the exercises you merely find over the internet might hurt you and your clients as they tend to be unreliable. These exercise can be unappropriate for you and even worse, lead to an injury. You'll probably lose clients.
Question: How long does it take to get my DVDs?
The cool thing is, you don't have to wait.
You get the 50 Filler Exercises Program right away.
After purchasing, you will instantly get access to the video presentation, exercise manual and exercise videos.
Question: What exercises are covered in the video?
In this 57 minute video, you will see filler exercise demonstrations for:
Feet
Ankles
Knees
Hips
Mid-Back
Back
Shoulders
Neck
You can download everything to your computer and get started right away. No need to wait for anything in the mail.
What is included in the 50 Filler Exercises Program:
---
Component #1: 50 Filler Exercises – Video Presentation

($37 value)

In this 57 minute video presentation, Rick gives you the background on the 50 Filler exercise program.

Rick covers the when, why and how of using these exercises.

In the video Rick will demonstrate, give you cues and explain each exercise in detail.

Component #2: 50 Filler Exercises – Manual

($29 value)

In this 60-page manual, Rick Kaselj goes through 50 Filler Exercises that he went through in the video presentation.

The manual shows you the start, middle and end position of each of the exercises, plus explains key points with each of the exercises.

Component #3: 50 Filler Exercises – Reference Guide

($29 value)

In this guide, you will have a reference all of the exercises so it is easy for you to jump to the exact spot in the video presentation where Rick discusses and explains the exercises.

Component #4: Access To Our Secret Facebook Group

With your purchase of 50 Filler Exercises, you receive instant access to our secret Facebook community.

Rick Kaselj and friends of Exercises for Injuries will be answering questions throughout this program via a secret Facebook group. Please join us on Facebook today. This will be the central place where you can ask questions, talk to others and get advice.

Component #5: Lifetime Updates

($29 value)

I am always adding new stuff to the program in order to help you get better results and help your clients recovering with ruthless mobility.
Your 50 Filler Exercises Program:
---
Summarizing what you will get for $39 $20:
Video Presentation ($37 value)
50 Filler Exercises Manual ($29 value)
Reference Guide ($27 value)
3 BEST Filler Exercises
I wanted to go through three filler exercises that I really like and oftentimes give to my clients because these three exercises benefit them the most.
Filler Exercise #1 – Heel Drop
I will have Orsy go through the exercises.
Orsy is stepping on the weight plates.
She is going to come up as high (plantar flexion) as she can and then dropping her heels (dorsiflexion) as far as she can and then coming back up.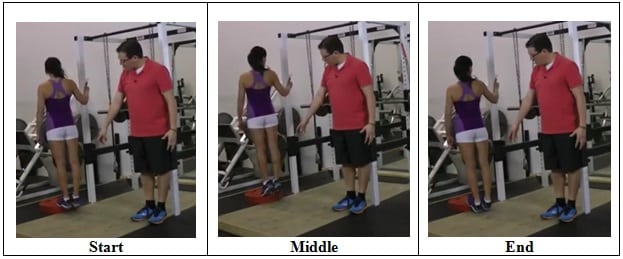 Heel Drop
Where to do the heel drop filler exercise?
Doing the exercise on the plates isn't the best place to do the exercise. It's what I had in this area. What I would recommend is utilizing a step and going through a full range of motion when it comes to the ankles.
It is important to drop the heels as far as you can. You might end up feeling a light stretch in that calf area and this is good.
What we are doing with the heel drop filler exercise is we are lubricating the ankle joint through full range of motion. We are dynamically stretching the muscles around that ankle, increasing the range of motion of the ankle and ease ankle movement.
The reason why we are doing this is because most of us are doing a lot of sitting and with a lot of sitting the ankle gets stiff and we lose movement in one or both of the ankles. When we lose movement in that ankle, it affects any lower body exercises that we are doing. For example, affecting lunging and squatting exercises. This will lead to putting greater stress on other joints like the knee, hip, and the back.
Filler Exercise #2 – Full Bodyweight Squat
After going through the full ankle range of motion filler exercise, what I get most of my clients to do is go through a full body weight squat and going through the full range that they can when it comes to their knees and hips.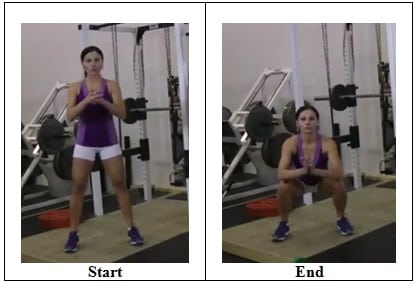 Full Bodyweight Squat
What we are doing is we are lubricating the knee joint and we are activating the stabilizing muscles around the knee.
Same thing when it comes to the hip. We are loosening up the hip and activating the stabilizing muscles in the hip.
By doing the ankle range of motion exercise, we are loosening up the ankle joint then we end up moving to the full bodyweight squat and what we are doing is working on the knees by loosening up the knee through full range of motion, and activating the stabilizing muscles which are protecting the knee. We are working on loosening up that hip, lubricating that hip joint, and activating those stabilizing muscles of the hip which protects the hip and the back.
If we have got the knee working properly and the hip working properly, then this decreases the stress when it comes to the back, hip and knee.
Those end up being two lower body Filler Exercises that I like to do.
#3 – Vertical Hanging Exercise
I have talked about this in other videos and I have talked about this a lot in another video when it comes to shoulder pain.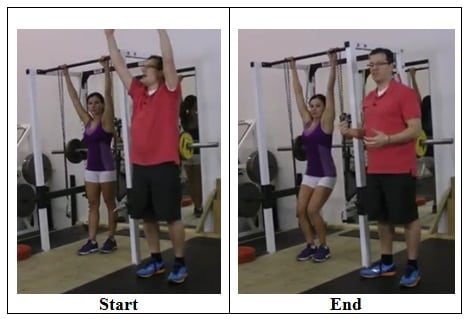 Vertical Hanging Exercise
How you do the vertical hanging exercise is you are grabbing the bar with your hands shoulder width apart and your arms are straight above. Then what you are doing is gradually add more and more of your body weight onto your arms and you are looking for a light stretch in the shoulders. What we are not trying to do is rip the shoulders apart, what we are trying to do is lightly stretch the muscles in the shoulders and then also lightly loosen up that shoulder joint.
Once again if you are doing a lot of sitting and a lot of driving, a lot of times we are losing some of that shoulder movement and what we want to do is add the Vertical Hanging in order to stretch out the shoulder muscles especially when it comes to overhead exercises, for example barbell pressing or snatches.
Stretching out those shoulders muscles will end up making any type of overhead pressing movement or any type of overhead movement easier because if you are losing some of the range of motion when it comes to your shoulder then you are putting more stress and strain on other parts of your body like your mid-back, your low back and your hips.
What I oftentimes do is I get people to just go for about 15 seconds, 25% of their bodyweight, get them to go do their next exercise, come back in between sets, do about 50% of their bodyweight for 15 seconds and work all the way up to their full bodyweight but they are going to gradually increase their weight on the arms and then they are lightly stretching out those muscles around that shoulder joint.
There you go. Those are the 3 Best Filler Exercises. Give those a go next time when you are working out. Add them in between the exercises that you are doing. See how you end up performing, see how you end up feeling, and see how your body reacts from going through those 3 exercises.
If you don't feel an improvement on how your body feels in 7 Days, You Get Your Money Back!
If that is not good enough, Try 50 Filler Exercises For The Next 60 Days With A No-Risk, 100% Money Back Guarantee!
"Test drive" the 50 Filler Exercises for the next 60 days with absolutely no risk, so you can overcome your muscle imbalances and improve your movement. You can feel completely safe because you are protected by my iron clad 100% money back guarantee.
You will not only be satisfied. I guarantee you will be thrilled and amazed with the 50 Filler Exercises, or you can simply email me and ask for a prompt and courteous, no hassle, no questions asked, 100% refund.
In fact, if you're not completely happy for any reason at all, then I insist that you ask for a refund. However, after seeing so many men and women overcome their 50 Filler Exercises in a quick and effective manner, I am confident that you will be thrilled as well.
Helping you overcome your injuries, pain and muscle imbalances,
Rick Kaselj
Author of 50 Filler Exercises
P.S. – There is NO RISK at all for you when you try the 50 Filler Exercises. If you are not thrilled how this program decreases your 50 Filler Exercises pain, let me know and I will refund your order. Your satisfaction is 100% guaranteed. Rick Kaselj has been trusted by the largest fitness & rehabilitation associations in North America (NSCA, ACE, CanFitPro, BCRPA, BCAK, CKA, NHPC).
P.P.S – If you are sick and tired of not knowing what to do about improving your movement, now you can find out. CLICK HERE to End Your 50 Filler Exercises
P.P.P.S. – There's only one catch to all of these. You need to act now to get the complete package. I've been told this package is way too cheap now and the price will be going up very soon. Or, if I decide to keep the price the same, a few of the components may be removed at any time and put up for sale separately.
NOTE: The 50 Filler Exercises Solved is a downloadable video and e-book. No physical products will be shipped. After you order, you will get INSTANT ACCESS to download the videos and e-book. The e-book format is adobe acrobat PDF, which can be viewed on Mac or PC. The video format is M4V, which can be viewed on Mac or PC. If you have any questions or need help, you can contact us at support (at) ExercisesForInjuries.com.